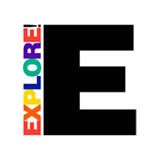 Happy New Year!!  I have to say, I wasn't heart broken to see 2012 go and welcome a year of new beginnings.  2012 felt…hard. And uninspired.  I think that is what happens when you see a dream realized and then comes the part where you are in the middle of it, making it work and doing the HARD work.  2012 wasn't a year I felt particularly creative. I miss that, it is part of my essence.  I've been so incredibly busy, just working to keep everything going, that I had nothing left over.  I'm hoping that 2013 is a different story. Step 1: the first post of 2013.  Here is to creativity and passion!
What it is: I discovered a new blog that I am absolutely loving!  It is hard to beat a place where exploration is not only welcome, but encouraged.  E is for Explore is that place.  Here you will find new learning activities and a fantastic collection of ideas from other sources.  There is a handy-dandy index that helps you find just what you need quickly and easily.  I've been working on collecting resources for this inquiry unit and E is for Explore has been an absolute treasure trove.  Topics include discovery/exploration, science/engineering, mathematics, art, literacy, social studies and seasons/holidays.
How to integrate E is for Explore into the classroom:  E is for Explore is a great tool for unit, center, and inquiry planning.  I am really enjoying the huge bank of hands-on activities and projects all designed to encourage exploration in learning. The wide range of activities will keep sparking curiosity in a variety of disciplines.
As I plan out inquiry units and gather resources, I am always on the lookout for activities that will encourage students to explore and spark new curiosities.  E for Explore made this process infinitely easier, bringing me an easy-to-search collection of activities, with great instructions, all in one place.  Many of the activities are manageable enough for a center activity within the classroom…great for differentiation and individualization!
I shared E is for Explore with some of our students, they had a great time looking through the science experiments and learning about how to make mini robots and floam.  This would be SO much better than a small tic-tac-toe board for students to choose an activity from.  Students can explore the entire site and choose an exploration that is of interest to them and complete it accordingly.
Tips: My hope is that iLearn Technology does for you what E if for Explore did for me.  Did you know that you can search by keyword (at the top of my website) or through a multi-category search (in the sidebar on the right)?  Choose as many variables as you want and see what you can find!  I categorize every post by keywords, Bloom's Taxonomy level, Grade Level, Resource Type, and Subject Area.  After 7 years of free resources, I've amassed quite a collection of awesome, free classroom tools.  Go ahead, give it a try and see what new fun finds you come across!
Leave a comment and tell us how you are using  E is for Explore in your classroom.